Computer Repairs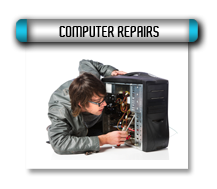 Hardware and software malfunctions are a part of computing. Whether your PC is a laptop or desktop, we can quickly diagnose and repair your computer, leaving you with as little down-time as possible.
We provide on-site, in-shop and remote support off-hours; giving you the ability to schedule you're computing support functions when you need your computer the least. Our team is CCNA, MCP and A+ Certified Computer IT professionals.

Installing software is not always as simple as putting a CD in the computer. Often different software packages can conflict; contain unwanted features that waste valuable processing and memory resources.
1 hour Computer Virus and Malware removal only $69.99 call now to get your computer repaired!